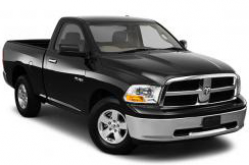 — Following a July, 2012, investigation into complaints of rear-end failures, Chrysler is recalling certain model year 2009-2010, Ram 1500 and Dodge Dakota trucks because a rear axle pinion nut may loosen due to a lack of adhesive.
The affected vehicles were manufactured from July 1, 2009, through November 30, 2009, and include over 44,000 vehicles.
If the rear axle pinion nut loosens, the axle can lock up and cause a crash with no warning.
The recall is expected to begin in November, 2012, and your dealer will install a pinion nut retainer to fix the problem. Owners can contact Chrysler at 800-247-9753 and reference recall number M34.