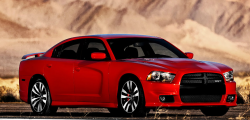 — Chrysler is recalling over 119,000 Dodge Charger and Chrysler 300 cars over fears that an electrical problem could cause the vehicle to lose control and crash.
The recall includes the 2011-2012 model years and will involve the relocation of the ABS/ESC system fuse. The fuse, which runs the antilock brake and electronic stability control systems, can potentially fail because of an overheated power supply.
Originally thought to be an isolated issue with police vehicles, Chrysler discovered a growing number of complaints about the same issue in non-police vehicles.
There will be no cost to vehicle owners, who may contact Chrysler at 1-800-853-1403.