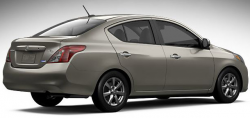 — Nissan has provided early warning reporting data to the National Highway Traffic Safety Administration that indicates a possible problem with air bags in the 2012 Nissan Versa.
According to the report, the supplemental restraint system (SRS) light comes on because a spiral cable assembly can be pinched within the steering column.
Any damage to this cable can prevent the air bag from inflating during a crash.
Safety regulators will try to find what caused the problem and based on their findings, a recall could be ordered. However, the investigation is currently in the preliminary stage.
If you drive a 2012 Nissan Versa and notice that your SRS light is on, immediately contact your dealer.