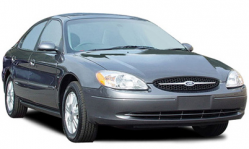 — The National Highway Traffic Safety Administration has opened an investigation into throttle complaints about model year 2000-2003 Ford Taurus and Mercury Sable vehicles equipped with 4-valve 3.0L V6 Duratec engines.
The government has received 50 complaints about a stuck throttle due to fractured speed control cable collars The fractured cable allows the cable ferrule to move relative to the collar. This throttle can stick if the ferrule hangs up on the shoulder of the collar when the throttle is closing.
One driver of a 2001 Mercury Sable complained to the government that while driving 40 mph, the vehicle kept increasing in speed even though the accelerator pedal wasn't touched. The driver applied the brake and shifted into neutral to stop the Sable. Once the vehicle was restarted, the engine immediately went to over 4000 RPM's.
The federal investigation will attempt to determine the exact cause of the problem and if a recall should be ordered.