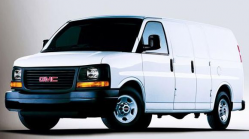 — General Motors is recalling certain model year 2003-2004 Chevrolet Express and GMC Savana vehicles equipped with a left side cargo door.
The recall involves vehicles originally sold or currently registered in Connecticut, Delaware, Illinois, Indiana, Iowa, Maine, Maryland, Massachusetts, Michigan, Minnesota, Missouri, New Hampshire, New Jersey, New York, Ohio, Pennsylvania, Rhode Island, Vermont, West Virginia, Wisconsin, and the District of Columbia.
According to the National Highway Traffic Safety Administration, water and road contaminants can become trapped in the protective conduit that covers the fuel filler pipe and may cause the pipe to corrode.
If enough corrosion builds up, gas could leak when you're filling up the tank. Not a good thing if something nearby would cause any kind of spark.
GM hasn't submitted a schedule when the recall will begin, but your dealer will install a new fuel filler neck.
Owners can contact Chevrolet at 866-694-6546 or GMC at 866-996-9463. Refer to campaign number 12166.