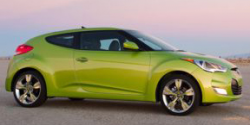 — The Office of Defects Investigation, a part of the National Highway Traffic Safety Administration, is taking a close look at the 2012 Hyundai Veloster after receiving 11 complaints that the sunroof exploded.
The government said seven people complained the sunroof shattered while the vehicle was traveling at highway speeds.
One Veloster driver said their sunroof exploded while driving and the next thing they knew, shards of glass were pelting them in the head and face.
Another owner said they went outside to find their vehicle covered with glass inside and out.
According to owners, taking their vehicles to dealers got their sunroofs replaced but no answers as to why the incidents occurred in the first place. The federal investigation will try to find the cause and remedy to the problem.