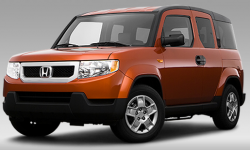 — On the same day that Honda recalled the 2012 Ridgeline, they announced a separate recall on model years 2007-2011 of the Honda Element.
The recall involves only those vehicles which are equipped with an accessory trailer hitch wiring harness. The wire that supplies power to the trailer turn signal lights was switched with the stop lamp wire.
This can really interfere with other drivers because the turn signal lights will activate only when the brake lights are on.
Honda expects the recall to begin about September 20, 2012.
Write down recall number S53 and call Honda at 1-800-999-1009.