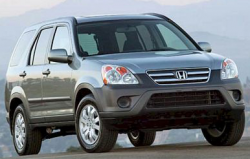 — At the same time Honda is facing a government investigation into why their 2003-2004 Odyssey and Pilot vehicles allegedly roll down the street at the worst times, Honda has announced a recall of model year 2002-2006 CR-V vehicles.
According to Honda, the driver-side power window switch might stop working or completely melt. It's one thing if the switch stops working, but if it melts it could cause a fire, even if the vehicle is alone and parked. Honda has warned drivers to park their vehicles outside just in case a fire would start raging.
The recall affects over 268,000 vehicles that were manufactured from February 19, 2002, through July 28, 2006.
The recall is expected to begin about November 2, 2012, so don't park inside a garage until your vehicle is inspected. It might be a good idea to park away from anything flammable. Your dealer will repair the switch if needed, so watch for official notification from Honda.
You can contact Honda at 800-999-1009 and refer to recall number S61.