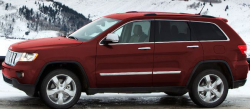 — The Office of Defects Investigation, part of the National Highway Traffic Safety Administration, has opened a preliminary evaluation into complaints about power steering hose failures in the 2012 Jeep Grand Cherokee.
According to safety regulators, a pattern of problems was seen in field reports submitted by Chrysler in its early warning reporting documents.
Those reports indicate power steering fluid may be ignited by hot surfaces in the engine compartment.
Additionally, the government has received two reports in the last month that allege severe engine fires that resulted in both vehicles completely lost to fires.
One driver said they could see fluid dripping from under the vehicle during the fire.
Another driver said they were traveling about 50 mph when they looked in the rear-view mirror and saw smoke outside. They pulled to the side of the road and got out of the vehicle, just as massive flames erupted from under the hood.
The Grand Cherokee was totally destroyed and the fire inspector said the blaze had originated from the engine area.
The current preliminary evaluation can be the first step toward a safety recall.
Model year 1993-2004 Jeep Grand Cherokees, 1993-2001 Jeep Cherokees, and 2002-2007 Jeep Liberties are currently under a separate government investigation into rear-impact fires.