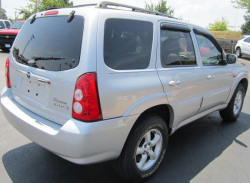 — Mazda is recalling certain model year 2001-2006, along with model year 2008, Tribute SUVs equipped with 3.0L V6 engines and speed control.
Inadequate clearance between the engine cover and the speed control cable connector could cause the throttle to stick when the gas pedal is fully or almost-fully depressed.
This risk is there regardless of whether or not cruise control is used.
The recall comes after The Center for Auto Safety, a nonprofit safety group, petitioned the government to open an investigation into sticky throttles in the Tribute.
The recall comes at the same time that Ford Motor Co. recalled over 420,000 Escapes for the same throttle problems.
Long-time Tribute owners will likely remember a similar recall in 2004 when Mazda recalled the Tribute for sticking throttles due to the accelerator cable.
Your dealer will repair the vehicle by increasing the engine cover clearance. The recall is expected to begin about August 6, 2012.
Remedy parts are expected to be available in mid-August, 2012. Until then, dealers will disconnect the speed control cable as a temporary fix if parts are not available at the time of your service appointment.
Owners may contact Mazda at 800-222-5500, option #6. You can also contact the National Highway Traffic Safety Administration Vehicle Safety Hotline at 888-327-4236 and refer to recall number 6812G.