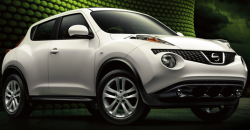 — If you drive a 2012 Nissan Juke, you might want to keep a close eye on the rear back seat.
Nissan is recalling certain model year 2012 Nissan Jukes because the back seat might come loose in a crash.
Nissan says the affected vehicles were manufactured from February 3, 2012, through May 26, 2012.
According to the National Highway Transportation Safety Administration, an incomplete weld on the back seat might not hold in the event of a crash and if that would occur, wearing a seat belt might be meaningless.
Nissan is expected to start the recall at the end of this month. Your dealer will replace the affected parts for free.
Contact Nissan at 800-647-7261.