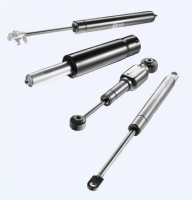 — It's not often an official government investigation is conducted on gas-filled struts, but that is exactly what's happening with struts made by Stabilus.
Gas-filled struts help to raise and support the liftgate of vehicles equipped with a power liftgate system. According to the National Highway Traffic Safety Administration (NHTSA,) Stabilus struts may have a manufacturing flaw that can result in a leak of the pressurized gas. This means your liftgate could close at the most unexpected times, like when you are leaning into the vehicle.
This is a good example of putting together a case by connecting the dots.
On February 16, 2012, Honda notified the NHTSA that a defect existed in certain model year 2008 through 2009 Odyssey vehicles.
In reviewing past records, it was discovered similar recalls were conducted by Toyota, Ford, and Honda between 2006 and 2010. On February 18, 2010, Honda notified the NHTSA of the same rear liftgate gas strut issue in its 2005 Odyssey vehicles.
On May 30, 2008, Toyota notified the NHTSA of the same issue found in its 2004 through 2006 Sienna vehicles. On March 6, 2006, Ford notified the NHTSA of the same issue in its 2005 through 2006 Freestar and Mercury Monterey vehicles.
All resulted in recalls but at the time, the recalls didn't originally identify the supplier of the gas struts. However, all three manufacturers have since confirmed that Stabilus supplied the equipment at issue in each recall.