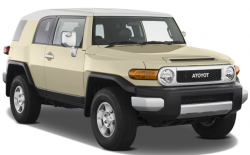 — Toyota is recalling certain Toyota Racing Development (TRD) brake kits installed by Toyota vehicle processing centers and sold by Toyota dealers as an optional accessory for model year 2007 through 2012 Toyota FJ Cruiser vehicles.
Affected kits are P/N PTR09-35070 and P/N PTR09-35100. These kits are for the front wheels and due to the shape of the outer brake tube of the brake kit, the clearance between the outer brake tube and a TRD 16 inch 6-spoke alloy wheel is minimal.
If wheel balance weights are installed in an incorrect location, the outer brake tube could be damaged due to interference with the balance weight, and brake fluid could leak from the damaged tube.
If the vehicle is equipped with one of the TRD brake kits, the brake caliper outer brake tube will be replaced. The dealer will make wheel balance adjustments if needed. Owners will be notified by mail in mid-November 2012, or can contact Toyota now at 800-331-4331.