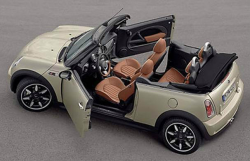 — People who have owned or leased a 2002-2006 MINI Hardtop or 2005-2008 MINI Convertible that had transmission problems should be getting some financial relief soon. BMW has agreed to settle three class-action lawsuits that claimed BMW knew those cars had transmission defects.
BMW denies there are defects, but has agreed to provide refunds to drivers who had to repair or replace their transmissions.
The lawsuits claim BMW engaged in deceptive conduct and breached warranties by failing to disclose that certain MINI vehicles equipped with Continuously Variable Automatic Transmissions (CVT) are defective and prone to failure.
If you had the CVT repaired or replaced at a MINI or BMW dealership, you'll have a 3 year/500,000 mile parts warranty from the date/mileage of the repair or replacement.
You may be eligible to receive between $1,000 and $2,000 if you sold your MINI for $4,000 or less without repairing the CVT.
A final approval hearing is scheduled for April 28, 2014. Please visit www.MiniCVTSettlement.com for more information or to file a claim.