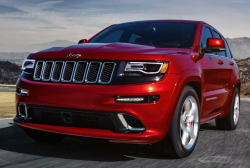 — It's one thing to experience a loss of your anti-lock brake (ABS) and electronic stability control (ESC) systems, but a totally different problem when there are no lights to warn you of impending doom. If you're the owner of a 2014 Jeep Grand Cherokee, your vehicle could go out of control while the dash lights remain dark.
Chrysler says they are recalling 91,559 model year 2014 Jeep Grand Cherokees because a combination of software issues and loose alternator ground wires could leave you questioning why you didn't ride a horse instead.
According to documents filed with the National Highway Traffic Safety Administration, Chrysler learned of the problem in April, 2013, but believed the problem was related only to instrument lights that would stay on or completely go out.
After 166 customer complaints, Chrysler determined the malfunctioning lights were only one issue. Not only can the lights take on a mind of their own, the ABS and ESC systems can fail and cause a huge problem when driving.
Without instrument warning lights, you wouldn't know of the problem until it's too late.
The recall is planned to begin in November, 2013. Chrysler says the problem will be fixed once your dealer updates the software and tightens the alternator ground wire.
If your instrument panel is putting on a light show, contact Chrysler at 800-247-9753 and give them recall number N58.