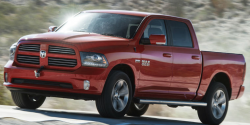 — You know how your turn signal indicator light flashes at an increased speed when you have turn signal problems? Actually, it's supposed to flash at double the speed if there's a problem.
According to federal regulations, a turn signal that doesn't act that way violates Federal Motor Vehicle Safety Standard Number 108.
That little issue has caused Chrysler to announce a recall of 30,000 model year 2013 Ram 1500, 2500, and 3500 trucks. The affected vehicles were manufactured September 9, 2012, through March 5, 2013 and are equipped with optional premium tail lamps.
The recall should begin in July, 2013. Chrysler dealers will fix the problem by reprogramming the central body controller software.
Owners can contact Chrysler at 800-247-9753 and give them recall number N35.