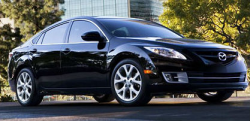 — The National Highway Traffic Safety Administration has opened an investigation into why doors are flying open on model year 2009 Mazda6 vehicles.
One person said the only reason they stayed in the vehicle was the fact they were wearing a seat belt.
Based on information submitted by Mazda6 owners, the mounting screws were missing from the latch. One person said they found all the screws on the latch could easily be removed because there was no adhesive to keep the screws in place.
The investigation will determine if an estimated 39,000 vehicles need to be recalled.