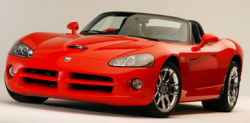 — Chrysler is recalling certain model year 2003 and 2004 Dodge Viper vehicles because a component in the air bag control module may fail. This can cause the front air bags and/or seatbelt pretensioners to deploy without a crash.
The affected vehicles were manufactured November 1, 2001, through June 30, 2004.
A federal investigation was ordered after the National Highway Traffic Safety Administration (NHTSA) identified 87 reports of air bag incidents resulting in 50 alleged injuries. The injuries consists of burns, cuts and bruises to the upper body.
Although Viper owners will probably receive the recall notice this month, Chrysler says it will be later in the year when dealers have the needed parts to fix the problem.
NHTSA says that some owners noted the air bag warning light had activated before the air bag deployed. If you notice this in your vehicle, contact your dealer immediately or call Chrysler at 800-247-9753.