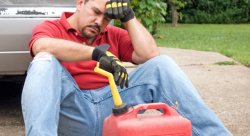 — Does the Toyota Prius have a "shrinkage" problem? The cold can cause serious shrinkage to all kinds of things, just ask George Constanza.
But ask owners of the Toyota Prius what happens to their gas tank when it's cold, and they'll tell you a shrinking fuel tank is something they certainly don't need.
Henry and Veronica Troup were so tired of the issue they sued Toyota claiming 2004-2009 Prius models contain a defect in the fuel tank. The class-action suit alleged the Prius gas tank advertised that it would hold 11.9 gallons of gas, but in reality might hold only six gallons in cold weather.
The problem is one the National Highway Traffic Safety Administration has heard before. A driver of a 2008 Prius told NHTSA that the only advice from a Toyota dealer was to always keep the tank full.
"I normally get about 450 miles out of one 11.9 gallon tank. Recently, I discovered my fuel gauge light going off at 300 miles. When I filled up my tank it only took 7 gallons, leaving 5 gallons that should have been in the tank. After filling it up, fuel gauge light went off just below 300 miles. Now I am confused, and do not know how much fuel is actually in my tank." - Prius owner complaint.
The lawsuit said Toyota used a type of bladder system that could expand and contract because it was flexible, in comparison to most fuel tanks that are made of plastic or steel.
The suit claimed Toyota should cover the issue as part of the warranty, but the Court rejected the claim because the gas tank is only a design choice, not a defect in the Prius.
Enter the 9th Circuit Court of Appeals who has upheld the earlier court ruling that Prius buyers were protected from "defects in materials or workmanship" and not how a car was designed.
The Court said even if the Prius gas tank suffers from shrinkage in the cold, all a driver needs to do is put gas in the car more often.
The case number is is 11-cv-56637, Henry Troup, et al. v. Toyota Motor Corp. - U.S. Court of Appeals, Ninth Circuit.