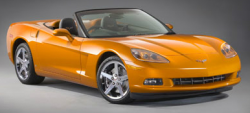 — The National Highway Traffic Safety Administration has expanded an investigation into headlight problems in model year 2005-2007 Chevy Corvette sports cars.
Three months ago the feds opened a preliminary investigation into complaints about low-beam headlights going out without warning.
NHTSA received 30 reports about headlights that went out after driving for 5 to 30 minutes.
General Motors said the problem is caused by a fractured low-beam circuit wire in the bussed electrical center, a device similar to a fuse box that is located near the engine. The location gets hot when the car warms up and GM believes this is the problem.
The expanded investigation will determine if over 103,000 Corvettes need to be recalled.