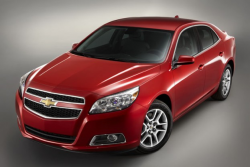 — General Motors is recalling 38,197 model year 2012-2013 Chevy Malibu Eco, Buick LaCrosse and Regal sedans equipped with eAssist to screen the generator control module for proper operation.
GM says that although the problem is not the battery itself, the battery could gradually lose its charge and cause a warning light to kick on.
Ignoring the condition could cause the engine to stall because of overheating in the circuit boards in the generator control module.
Additionally, you might notice a burning odor or see smoke in the trunk. GM further said it's possible a trunk fire could occur, although they don't know of any instances of fires or crashes related to the problem.
GM didn't say when the recall would begin, but you should contact a dealer if you notice any symptoms associated with the problem.
With questions, contact the National Highway Traffic Safety Administration at 888-327-4236.