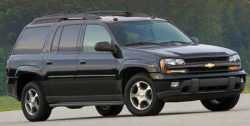 — General Motors is recalling over 193,000 vehicles over fears an electrical short could cause a fire.
The recalled vehicles include the 2006 Chevrolet Trailblazer EXT and GMC Envoy XL, the 2006-2007 Chevrolet Trailblazer, GMC Envoy, Buick Rainier, SAAB 9-7x, and Isuzu Ascender.
GM said fluid can enter the driver's door module causing corrosion that could result in a short in the circuit board. A short may cause the power door lock and power window switches to fail or cause a fire if the door module overheats.
GM is warning owners to park outside until the problem is fixed.
The recall is expected to begin July 24, 2013. GM will notify Buick, Chevrolet, and GMC owners, Isuzu and Saab will contact their respective owners.
Dealers will test the driver's door module and if it's functioning properly, a protective coating will be applied. If the module is not functioning properly, it will be replaced.
With questions or concerns, Buick owners can call 800-521-7300, Chevrolet owners call 866-694-6546, GMC owners dial 866-996-9463, Isuzu owners call 800-255-6727, and SAAB owners can call 855-880-0808.
GM's recall number is 12180.