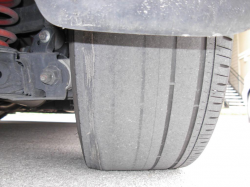 — Owners of the Honda Civic and Civic Hybrid have complained for years about rear tires that wear away like a tissue in a tornado.
After a three-year battle, Honda has settled a class-action lawsuit that alleged Honda knew its 2006-2007 Honda Civics and 2006-2008 Civic Hybrids had defective rear suspensions. The lawsuit claimed Honda knew there was a problem but didn't inform consumers until a lot of money had already been spent to replace the tires.
The alleged suspension defect caused the tires to wear unevenly and prematurely.
CarComplaints.com heard from many Civic owners who complained about that very problem.
Kathe, of Atlanta, Georgia, is just one example of how Civic owners wasted thousands of dollars on tires just to have to waste even more.
"I have a Honda Civic 2007 that I have bought tires for multiple times! I have had many theories attributed to the excessively quick wear and tear of my rear tires - not rotating, not balanced, wrong tire size, etc. Every mechanic I talked o had a different theory. Not until I saw this website did I see that evidently this a VERY common problem with the model of my car!! I have spent thousands trying to repair this problem to no avail. Tires I spent over $700 on wear out at 20,000 miles! Very frustrating!! Honda offers no help. Says that I didn't take care of my tires! Consider me in if a class action lawsuit ever comes around on this..."
Although Honda denies there is a problem, they agreed to replace worn out tires and the defective part. The settlement says if you replaced your tires because of the problem, Honda will reimburse you on a pro rata basis.
If you paid to replace a control arm on your Civic because of tire problems, Honda will reimburse you for parts and labor.
The deadline to file a claim is January 16, 2014. You need to read the rules very carefully to submit a valid claim. Click here for the lawsuit settlement website.
For a small example of complaints submitted to CarComplaints.com about the tire wear problem, take a look at just the 2007 model year Honda Civic (note that complaints are split between "suspension" and "wheels/hubs" categories).