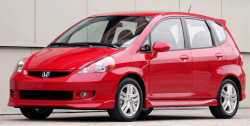 — A recall of a recall? Looks like that is exactly what's happening with the 2007-2008 Honda Fit.
Honda says they are "re-recalling" the Fit because the power window switch could start a fire. That's over 143,000 vehicles that were affected by the original recall in 2010 for the same problem.
The National Highway Traffic Safety Administration says the plastic cover over the switch could allow water into the switch. This could cause the switch to overheat and fail, not to mention the melting switch could catch fire.
Honda will start contacting owners this month with instructions to take their vehicles to a dealer. The dealer will check the switch for damage and replace it if needed.
If the switch is not damaged, Honda will send a second notification to go back to the dealer to have a new switch installed, but that won't happen until later this year.
If you have questions about this recall of a recall of the Honda Fit, call 800-999-1009 and refer to recall number JA6.