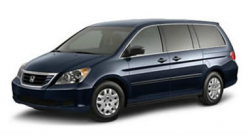 — Honda has announced they are recalling 344,000 model year 2007-2008 Odyssey minivans because the Odyssey can come to a screeching halt without the driver touching the brake pedal. Not a comforting thought for any driver.
Honda says the problem was traced to the vehicle stability assist (VSA) software. We all can expect more recalls related to software problems as our cars are turned into computers on wheels.
Honda first heard of the Odyssey problem in April, 2012, but technicians couldn't duplicate the problem during testing. By June 30, 2013, Honda received 109 warranty claims and 205 field reports related to the problem.
Owners of the 2005 Honda Pilot, 2005-2006 Acura MDX, and the 2005 Acura RL heard this same story in March of this year when those vehicles were recalled for unintended braking related to the VSA system.
According to documents filed with the National Highway Traffic Safety Administration, the 2007-2008 Odyssey has a unique VSA program. If the vehicle is driven in a certain way, hydraulic pressure can build in the braking system.
The next thing a driver might recognize is the vehicle screaming to a violent halt without pressing the brake pedal. To make matters worse, the brake light will stay off to give you a sense of false security. However, Honda is not aware of any crashes or injuries related to the problem.
If flying through your Odyssey without touching the brakes isn't bad enough, Honda says they won't have the parts to fix the problem until March, 2014.
Owners of affected Odysseys will receive a first notification letter that provides instructions about what to do when you start the minivan. Once Honda dealers have the needed parts, owners will receive a second letter to schedule a repair appointment.
For now, concerned owners of 2007-2008 Honda Odyssey vehicles can see instructions about how to prevent the problem by visiting www.recalls.honda.com or by calling Honda at 800-999-1009.