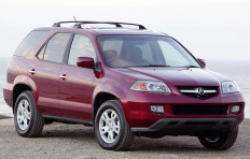 — Following a federal investigation into why Honda vehicles were throwing on the brakes when the driver didn't, American Honda has announced they are recalling over 182,000 vehicles to fix the vehicle stability assist system.
The recall involves the 2005 Honda Pilot, 2005-2006 Acura MDX, and the 2005 Acura RL.
The National Highway Traffic Safety Administration opened the original investigation in October, 2012, after they learned of 185 incidents of unexpected braking in the Pilot. Several drivers said their vehicles went from highway speeds to a complete stop without any warning.
Honda believes damage to a capacitor in the stability assist system is causing the system to malfunction, applying brake force even though the driver hasn't touched the brake pedal. However, if a driver does touch the brake pedal while the system is failing, it could feel like the driver has slammed on the brakes.
Honda and Acura dealers intend to fix the problem by installing a new electrical sub-harness. Additionally, Honda dealers will inspect 51,000 Pilot vehicles to make sure a ground bolt for the stability assist system is tightened properly.
Honda will begin mailing recall notifications in April, 2013. Owners of the affected vehicles can contact Honda at 800-999-1009 or Acura at 800-382-2238.