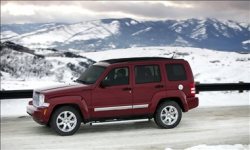 — What is it with Jeep vehicles and fires? There's been investigations into headliner fires, engine fires, rear-impact fires, and now an official investigation into door fires.
According to the National Highway Traffic Safety Administration, there have been two reports of door fires in the 2012 Jeep Liberty. The complaints allege the driver's side door caught fire near the master power window switch.
One Jeep Liberty driver said she smelled a burning odor and saw black smoke coming from the driver-side door. She got the Liberty off the road and grabbed her two children from the back. The tow truck driver noticed the window switches had melted into the door.
Once the Liberty was towed to the dealership, it caught fire again and it took two fire extinguishers to get the fire under control.
At the time of the fire, the Jeep was only six months old.
Both owners said the windows and door locks activated on their own during the fires.
One driver said the vehicle caught on fire a second time after it was repaired.
Over 79,000 vehicles could be at risk. Safety regulators will try to track down the problem and decide if a recall should be ordered.