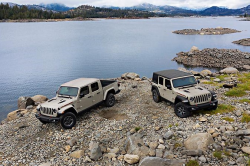 — A Jeep clutch recall involves Gladiator and Wrangler SUVs equipped with clutch pressure plates that may overheat and break apart.
The Jeep clutch recall includes about 77,000 model year 2018-2023 Jeep Wrangler and 2020-2023 Jeep Gladiator vehicles equipped with manual transmissions.
This is the third Jeep clutch pressure plate recall involving the Gladiators and Wranglers.
"In some circumstances, the clutch pressure plate may become overheated through friction, which may lead the pressure plate to rapidly fracture. When a pressure plate fractures, it may result in cracks or holes in the transmission case, allowing heated debris to be expelled from the transmission case." — Fiat Chrysler
The heated debris can come into contact with a hot ignition source and start a fire.
Chrysler engineers investigated Jeep clutch plate failure fires in December 2022 and January 2023 after finding an increasing trend of fires.
The investigation included 2018-2023 Jeep Wrangler and 2020-2023 Jeep Gladiator SUVs built after the 2021 recall.
As of February 9, 2023, FCA knew of "26 customer assistance records, 36 warranty claims, and six field reports potentially related to this issue for all markets with dates of receipt ranging from July 5, 2021 to January 12, 2023."
Additionally, the automaker is aware of one injury but no crashes.
Jeep drivers should be aware of smells from burning clutches, if they feel slipping clutches or if they see warning messages.
About 7,500 Jeeps are recalled in Canada.
Chrysler is still working on a fix considering previous repairs failed. All Jeep Gladiator and Wrangler vehicles previously recalled will need to be repaired again.
Jeep clutch recall letters are expected to be mailed April 14, 2023.
Owners of 2018-2023 Jeep Wrangler and 2020-2023 Jeep Gladiator SUVs may call 800-853-1403 and ask about clutch pressure plate recall number 19A.