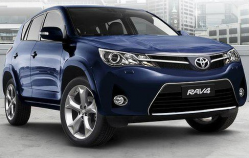 — A demanding crash test conducted by the Insurance Institute for Highway Safety (IIHS) has sent Toyota back on their heels. IIHS says the 2013 Toyota RAV4 did not hold up well in the small overlap frontal crash test and received a "poor" rating, the lowest possible.
The small overlap test replicates what happens when the front corner of a vehicle hits another vehicle or an object like a tree or a utility pole. In the test, 25 percent of a vehicle's front end on the driver side strikes a 5-foot-tall rigid barrier at 40 mph.
The 2013 RAV4 previously earned the "Top Safety Pick" award for good ratings in the Institute's four other tests: moderate overlap front, side, rollover and rear.
Toyota redesigned the 2013 RAV4 and made additional changes to models built after April, but the changes weren't enough to help with the small overlap crash test.
According to IIHS, "a combination of poor structure and inadequate control of the dummy's movement prevented the RAV4 from earning better than a poor rating overall."
Researchers said the driver's space was crushed and the dummy's left foot was trapped by crushed and buckled sheet metal in the footwell. Dummy measurements indicated a high risk of injury to the lower left leg.
Further, the dummy's head barely contacted the frontal air bag before sliding off the left side as the steering column moved more than 7 inches to the right. More bad news? The dummy's head hit the instrument panel.
"This is a challenging test," says Institute President Adrian Lund. "Most manufacturers are going to need to make significant changes to their vehicles in order to improve protection in these kinds of serious frontal crashes."
In all fairness to Toyota, most other automakers haven't performed well in the small overlap crash test, either.
In the earlier tests of small SUVs, only the Subaru Forester and Mitsubishi Outlander Sport earned a good or acceptable rating. Eleven other small SUVs were rated marginal or poor.