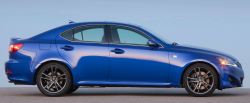 — Toyota is recalling 235,000 vehicles because they could just stop moving while you're on the road. Better have a tow truck number handy!
The affected models include 133,000 model year 2006-2010 Highlander Hybrid and model year 2006-2008 Lexus RX 400h vehicles, and 102,000 model year 2006-2011 Lexus IS 350, IS 350C, and GS 350 vehicles.
The "recall" is actually two separate recalls for different problems.
Hybrid Vehicle Recalls
In the recalled Toyota Highlander Hybrid and Lexus RX 400h vehicles, transistors within the hybrid system's inverter assembly can experience heat damage.
At the least, all kinds of warning lights on the instrument panel will illuminate, and in most cases the vehicle will enter "limp home mode." Toyota said that in some cases the hybrid system will shut down, leaving you stranded.
Non-Hybrid Vehicle Recalls
The recalled Lexus IS 350, IS 350C and GS 350 cars can also stop in the middle of the road, but for a different reason.
Toyota says bolts used to secure the variable valve timing control device can become loose and cause the car to stop. The only warning might be a strange noise right after starting the car.
When Does the Recall Start?
The Highlander and Lexus RX400h recall should begin in late September, 2013. Unfortunately, the National Highway Traffic Safety Administration has not released a schedule of when the Lexus IS 350, IS 350C and GS 350 recall will begin.
Owners with concerns can contact Toyota at 800-331-4331.