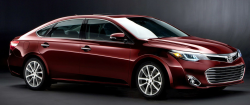 — The National Highway Traffic Safety Administration is shut down because the government can't pay its bills, but the shutdown hasn't completely stopped the recall process. Toyota announced it's recalling about 10,000 model year 2013-2014 cars because of windshield wiper problems.
The recall involves the 2013-14 Camry and Camry Hybrid, 2013 Avalon and Avalon Hybrid, and the 2014 Toyota Corolla.
Toyota said a manufacturing problem can affect contacts on the wiper switch terminal that could lead to an electrical short if the wiper is moved from OFF to the MIST setting.
Toyota dealers will replace the wiper switch, but a recall schedule hasn't been announced.
Owners of the affected vehicles should call Toyota at 800-331-4331.