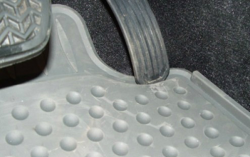 — Toyota has agreed to enter talks to settle hundreds of lawsuits that claim Toyota vehicles experienced unintended acceleration that led to injuries and deaths. The years-long battles have resulted in ongoing lawsuits as well as a huge cost to Toyota.
Toyota believes the problems are caused by stuck gas pedals or misplaced floor mats that trapped the gas pedals. Independent testing by NASA and other outside laboratories agreed with Toyota and concluded driver error was also a contributing factor.
The automaker has settled most lawsuits before they reached the trial stage, including a $1.6 billion dollar class-action settlement that focused on how alleged unintended acceleration problems caused a decrease of the values of personal vehicles. Two other cases that were given approval to go to trial were also settled by Toyota before reaching a jury.
In February of this year, Toyota reached a $29 million settlement agreement with the Attorneys General of 29 states and American Samoa to resolve unintended acceleration issues related to recalls from 2005 to 2010.
However, a recent case is believed to be the catalyst for Toyota's decision to enter settlement talks.
Just two months ago, a jury awarded $3 million to the injured driver and the family of a passenger killed in a crash of a 2005 Toyota Camry. Attorneys for the plaintiffs successfully argued electronic throttle-control system software was to blame for the crash.