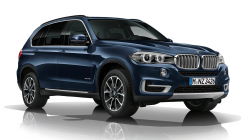 — BMW is recalling 6,400 model year 2014 X5 SAVs (Sport Activity Vehicles) because the child safety lock can fail. The SAVs are equipped with a feature called "soft close automatic" which will close a door tightly even if the door is shut gently.
BMW says the rear door lock mechanisms may be defective and allow a child to open the door from the inside by pulling the handle twice. This will disengage the child safety lock, something no parent needs when cruising down the highway.
BMW learned of the defect on March 5 and later found the affected part had too narrow of a clearance between internal components of the locking system. Although the consequences could be disastrous, BMW has not received any reports of accidents or injuries related to the defect.
Affected BMW X5 owners will be notified by the end of this month and asked to make a dealer appointment. BMW dealers will inspect the rear side door locks and replace the locks if necessary.
X5 owners can contact BMW at 800-525-7417.
Model year 2010-2012 BMW X5s were recently part of a recall of 156,000 cars and SUVs with loose camshaft timing unit bolts that could cause engine damage.