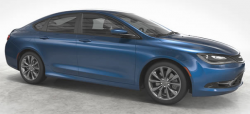 — Chrysler is recalling a small number (89) of model year 2015 Chrysler 200 cars to replace wiring harnesses that could overheat and melt. Chrysler didn't say which wiring harnesses are involved.
Chrysler discovered the defective harnesses following an investigation of cars manufactured during a five-week period. Engineers found the wiring harnesses could be overloaded under certain electrical conditions and overheat.
Chrysler says the bad harnesses haven't caused any complaints, accidents or injuries. Chrysler didn't say when the model 200 recall will begin, but owners with questions can call 800-853-1403.
In addition to announcing the Chrysler 200 wiring harness recall, the automaker said it created a new separate office for vehicle safety and regulatory compliance. The new office will be headed by Scott Kunselman, Chrysler's senior vice president.
Chrysler said establishing the new office of safety will "help intensify the Company's continuing commitment to vehicle safety and regulatory compliance."
To read owner-reported complaints about the Chrysler 200, click here.