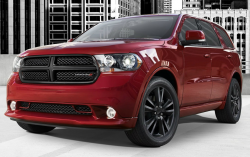 — Chrysler is recalling over 184,000 model year 2014 Dodge Durango and Jeep Grand Cherokee SUVs to fix the occupant restraint control modules that control the air bags and seat belt pretensioners.
Chrysler says the modules can experience electrical short-circuits that cause the air bag warning lights to illuminate. Those lights are used to tell a driver the air bags are disabled and useless in a crash. The seat belts will still work, but the pretensioners that activate in a crash might not function.
The automaker isn't sure which SUVs are affected by the defective modules, but Chrysler said the modules will be replaced in 126,772 SUVs in the U.S.; 8,106 in Canada; 3,722 in Mexico and 45,615 Dodge Durango and Jeep Grand Cherokee SUVs overseas.
Chrysler says it is unaware of any accidents or injuries related to the defective modules.
Owners of the 2014 Dodge Durango and Jeep Grand Cherokee should watch for mailed notification from Chrysler. With questions, contact Chrysler at 800-853-1403.
The same occupant restraint modules have caused problems with other automakers. The modules were supplied by Robert Bosch LLC, the same supplier that caused Ford to recall 595,000 Escape and C-MAX vehicles in May 2014.
Again in September 2014, Ford recalled 850,000 vehicles because of defective occupant restraint modules supplied by Bosch.
Additionally, the 2014 Dodge Durango and Jeep Grand Cherokee SUVs have faced other problems, such as when 895,000 of those vehicles were recalled after reports of sun visors catching on fire.