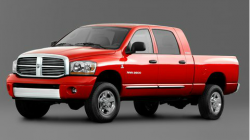 — About 110,000 model year 2004-06 Dodge Ram 2500 & 3500 trucks with manual transmissions are under close government scrutiny after a reported child death.
The National Highway Traffic Safety Administration says it has received three complaints about engines starting without pressing the clutch pedals. The suspected culprit is the clutch interlock switch that can fail and allow the engine to be cranked when it shouldn't.
One owner says a child entered the truck and started the engine without using the clutch pedal. The truck moved forward and killed another child. The owner says the clutch interlock switch had never been tampered with and was later tested and found to be defective.
Another complaint said someone was standing in front of the truck working under the hood when the engine was cranked without pushing the clutch pedal. The truck moved forward and knocked the person to the ground, although no injuries were reported with this incident.
Although the investigation is new, the complaints are not. One complaint was originally filed in September, 2012. The other two complaints were submitted to the government in April and August, 2013.
NHTSA didn't say why it is just now opening its investigation, but the pounding the agency has taken recently over the GM recalls might lend a clue.