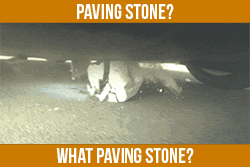 — The National Highway Traffic Safety Administration (NHTSA) has closed its investigation into Tesla Model S fires that occurred on two U.S. roadways. NHTSA opened the investigation in November, 2013, after two reports of Model S electric cars catching fire after objects in the road hit the undercarriage of the cars.
Both cars--one in Washington and one in Tennessee--struck objects that penetrated the aluminum pan at the forward area of the battery and damaged the lithium ion cells of the battery. The fires destroyed the cars but didn't cause any injuries.
The Tennessee fire was caused by a three-ball hitch that apparently fell from another vehicle. Tests showed an object like this could penetrate the case that covers the battery.
NHTSA said it was never discovered what object caused the Washington fire, but Tesla did perform an over-the-air software update to prevent the cars from lowering at highway speeds. Tesla engineers thought raising the body of the car would help protect the undercarriage and subsequent damage to the battery.
However, NHTSA was still concerned about the risk of fire because of not knowing what type or size of object had hit the Model S in Washington. Tesla agreed to modify the cars by adding three new components to the car's undercarriage to protect the battery.
On March 6, 2014, and to make the Model S more like a civilian tank, Tesla outfitted the cars with a triple underbody shield.
According to Tesla, the first of the three shields is a rounded, hollow aluminum bar that is designed to either deflect objects entirely or absorb the impact and force it upwards and away from the battery pack.
Second, a titanium plate is used to prevent front underbody components from being damaged.
Tesla says those two things will deflect or crush the vast majority of objects. However, a third solid aluminum shield provides another layer of deflection and finally causes the Model S to ramp up and over any object, even if it's "incompressible and immovable."
And in other news, while Tesla upgrades their cars for maximum occupant safety, General Motors announced a recall of another 824,000 cars because of failing to fix a defective ignition switch 10 years ago.