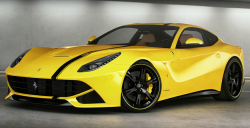 — Ferrari will pay $3.5 million to the National Highway Traffic Safety Administration (NHTSA) for ignoring U.S. federal laws concerning early warning reports.
Early warning reports (EWR) are required from large automakers and their affiliates to help NHTSA track potential safety problems. Reports are to be filed every three months and should include information such as deaths and injuries, complaints, warranty claims, accidents and property damage claims.
Ferrari didn't submit quarterly reports for over three years and has admitted it failed to inform the government about three incidents related to deaths.
It's possible NHTSA still wouldn't know about the Ferrari deaths if the government wouldn't have submitted questions to Ferrari in July 2014.
Along with the $3.5 million penalty, the government ordered Ferrari to improve its early warning reporting procedures and to retroactively submit all EWR reports.
Ferrari isn't the first automaker to feel the wrath of NHTSA for ignoring the government. In June 2014, General Motors incurred a daily $7,000 fine for ignoring some of NHTSA's questions about GM's ignition switch recalls. The automaker finally answered all the questions, to the tune of a $420,000 civil penalty.