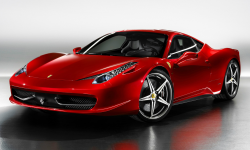 — Pay $235,000 for a car just to have it recalled for a simple trunk latch? That's what over 3,000 Ferrari owners must deal with if they own a 2010-2014 F458 Italia and F458 Spider.
These incredibly expensive cars have a front trunk storage compartment with a latch system that does not release the secondary latch when the car is parked. By safety standards, that latch must work in case someone is trapped in the trunk. With a defective latch a child or adult wouldn't be able to release the trunk lid.
Ferrari says a change was made to the front trunk latch in May 2013, and any cars manufactured before that date have a defective latch.
One could imagine after paying over $230,000 for a car that maybe Ferrari would pay to have mechanics personally fly to each home and repair the car. But alas, the recall process will work just like the cheapo cars most of us drive.
Owners of the 2010-2014 F458 Italia and F458 Spider should watch for mailed notification from Ferrari at the end of September 2014. Dealers will install a new part and modify the existing front trunk latch system.
With questions, contact Ferrari customer service at 866-551-2828 and give them recall number 54.
Looking for complaints about Ferrari cars? It's not like reading complaints about GM or Toyota, but you might check here for Ferrari complaints.