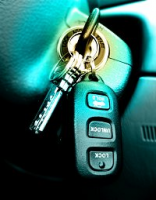 — While news spreads about the most recent General Motors recall of 1,500,000 vehicles for air bag and brake problems, law firms are gearing up for legal battles over GM's "other" issue.
The "other" refers to why GM waited over 10 years to recall over 1.3 million vehicles because the ignition switch could move out of the "run" position while the vehicle is moving.
GM said 13 fatalities might be linked to the defect, a defect GM knew about since 2004. GM had indications of ignition switch problems in 2001 but was convinced of the problems by 2004, yet did nothing to inform the public.
Facing recalls, government investigations and skepticism by the public, GM will also have to face lawyers prepared to make GM answer tough questions in a court of law.
Those legal proceedings have begun as Hagens Berman -- the law firm that settled the $1.6 billion lawsuit against Toyota in 2013 -- has opened an investigation into a possible class-action lawsuit against GM.
Hagens Berman says it seems GM knew the defect existed and was a severe danger to the driving public, yet remained silent for over 10 years. The law firm said they want to discover, in court, why GM failed to act sooner.
"We are looking closely at this case and developing a range of legal approaches that we believe will give consumers the best chance at recovering damages from G.M. if the allegations of wrongdoing prove to be true," said Steve Berman, managing partner of Hagens Berman. "The bottom line is that more than a million owners drove cars with a dangerous defect for years because G.M. didn't want to come clean, and I will use all my resources and experience to figure out the best way to make the owners safe and whole."
GM owners who have experienced issues with their electrical systems shutting down or have had other problems with their vehicles can contact Hagens Berman by visiting www.hbsslaw.com/cases-and-investigations/cases/general-motors.
First GM Ignition Switch Class-Action Lawsuit
Another case is already underway from a Texas-based law firm that has filed the first class-action lawsuit in the nation against GM over the ignition switch defect.
Hilliard Muñoz Gonzales has filed the law suit on behalf of families and survivors of those injured or killed in crashes caused by a faulty ignition switch. Hilliard Muñoz Gonzales is warning drivers of the recalled vehicles to park the cars and keep them off the road.
"Driving a recalled GM vehicle is like carrying a stick of dynamite with a slow-burning fuse. When it goes off it will be sudden, violent and deadly," said Bob Hilliard, lead attorney in the case.
GM owners who have been affected by the ignition switch recall can find out more about the Hilliard Muñoz Gonzales class-action lawsuit at cobaltrecallcase.com.