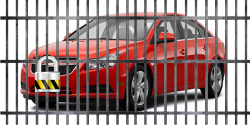 — You know that giant hole GM has been digging themselves into lately? Yeah, it just got a bit deeper.
GM has issued a stop-sale on the 2013–2014 Chevy Cruze, which means those model years can't be sold or delivered until a specific problem has been addressed. What is it? That remains anyone's guess at this point since GM has yet to specify the problem, but you can bet it's pretty serious for the manufacturer to bring attention to another one of its failing cars.
According to a GM spokesman the problem affects about 1/3 of the Cruze models currently on dealer lots in the U.S. and Canada, and only those with a 1.4L turbocharged four-cylinder engine.
Mo' Cruze, Mo' Problems
The Cruze has been a problem child for GM the last couple years. Back in June, 2012, the government opened an investigation into engine fires for the 2011–2012 model years. About a week later GM recalled 400,000 Cruzes to modify the engine shield and prevent further fires.
To start off 2013, GM was proud to introduce new airbag technology making its debut in the 2013 Cruze. Less than a month later, the 2012 Cruze was recalled for airbag problems. While unrelated, it was just another hit to the Cruze's sinking battleship.
The cherry on GM's Cruze cake was when 293,000 Cruze vehicles were recalled for brake problems. If you're keeping score at home that's 3 recalls in roughly a year for brakes, engine fires and airbag failure. Other than that – oh, and this undisclosed mystery problem — I'm sure these cars are great.