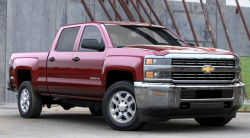 — General Motors is recalling about 470,000 vehicles globally in three separate actions that bring the total number of recalls in 2014 to 48. Most of the vehicles are newer models, including 392,459 full-size pickup trucks and SUVs in the U.S.
Chevy Silverado, Tahoe, Suburban, GMC Sierra, Yukon, Yukon XL
GM says the recalled trucks and SUVs are at risk of rolling away even though the gear shifter says the transmission is in Park. Furthermore, you could be driving down the road and suddenly realize the vehicle isn't moving forward because the transfer case has electronically switched to neutral.
The affected trucks and SUVs include the four-wheel-drive versions of the 2014-2015 Chevrolet Silverado and GMC Sierra; the 2015 Chevrolet Tahoe and Suburban; and the 2015 GMC Yukon and Yukon XL.
In addition to the 392,459 vehicles in the U.S., GM says 53,607 will be recalled in Canada and 20,874 vehicles will be fixed outside the U.S. and Canada.
GM isn't aware of any accidents or injuries related to the defect, but dealers will need to recalibrate the transfer case control module software.
Chevy Caprice Police Cars, SS Sport Sedans
About 4,794 model year 2013-2014 Chevy Caprice police cars and 2014 Chevy SS sport sedans are recalled in the U.S. because the windshield wipers could stop working. It doesn't sound serious unless it happens while driving in a rain storm.
GM blames the problem on windshield wiper motor gear teeth that can become stripped and cause the wipers to fail.
GM dealers replace the windshield wiper module assembly.
Chevy Corvette
The smallest recall involves 1,939 model year 2014 Chevy Corvettes that have bad welds in the rear shocks which could break while on the road, or at the least, make the shocks wear out much quicker than normal. The Corvettes are equipped with the FE1 or FE3 suspension.
There haven't been any reports of accidents or injuries, and hopefully the recall procedure of replacing the two rear shocks will keep things that way.
The National Highway Traffic Safety Administration hasn't said when the recalls will begin.
These three GM recalls comes right after GM recalled 29,000 Chevy Cruze cars because of an air bag defect.
CarComplaints.com has complaints about the trucks, cars, and SUVs named in the three recalls. Click a model below, or file your own complaint here.