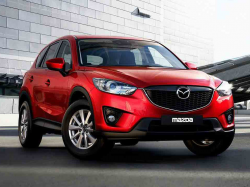 — In February 2014, the National Highway Traffic Safety Administration (NHTSA) opened an investigation into brake pedal problems in 62,000 model year 2010-2011 Mazda CX-9 cars.
Owners complained about difficulty pushing the brake pedals and hearing a hissing noise when trying to apply the brakes. The noise always seemed to come from the area of the brake pedal.
In response to NHTSA's investigation, Mazda found a problem with brake booster diaphragms that could tear and cause the boosters to have limited function. Mazda said a small tear didn't cause much of a problem but hot weather could cause the tear to get bigger.
Although it wasn't enough to cause a complete loss of braking, owners said the pedal could feel "hard" one moment and "spongy" the next. Further, no accidents or injuries were caused by the problem.
NHTSA says it's closing the investigation because Mazda agreed to extend the warranty coverage on the CX-9 cars. Mazda calls it a "special service program" that extends the warranty coverage for repairing this condition to unlimited time and mileage for repairs performed between March 31, 2014, and March 31, 2015.
Any CX-9 cars repaired for the condition after March 31, 2015, will receive an extended warranty of 7 years or 90,000 miles.
Safety regulators say closing the investigation doesn't necessarily mean a safety defect doesn't exist, so they will continue to monitor any future complaints about the problem.