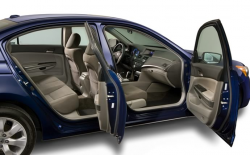 — The National Highway Traffic Safety Administration (NHTSA) has upgraded its investigation into 335,000 model year 2008 Honda Accords.
NHTSA opened a preliminary evaluation of the cars in February 2014 after receiving complaints about side air bags inflating from simply shutting the driver or front passenger door.
The investigation found 293 reports of people shutting the doors and triggering the driver-side or passenger-side side curtain air bag, and even the side seat-mounted torso air bag. NHTSA found 14 people who allegedly were injured because of the air bags.
NHTSA says only the 4-door model of the 2008 Honda Accord are affected because the software code is different than what is used in the 2-door model. That software code is found in the electronic control unit and is used to regulate the air bag crash parameter related to the force used to close the doors.
Honda says it eventually changed the software code and NHTSA's investigation found the number of complaints dropped after the software change.
The preliminary evaluation has been upgraded to an engineering analysis to determine the risk of injuries and if 335,000 model year 2008 Honda Accords should be recalled.
CarComplaints.com will update you with the results of the investigation.