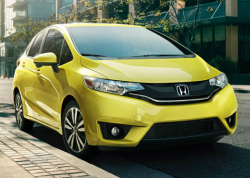 — Honda is recalling about 6,200 model year 2015 Fit vehicles because the side curtain air bags could harm an occupant in a crash. The National Highway Traffic Safety Administration said the cars might have been built with an A-pillar interior cover that wasn't meant to be used in a car with air bags.
Honda discovered the problem during routine inspections at the factory when employees saw the A-pillar cover added to cars destined for the U.S. should have been used only in cars overseas. The automaker says no crashes or injuries have been reported related to the problem.
The affected 2015 Honda Fits were manufactured April 11, 2014, to June 9, 2014.
The recall will begin on September 25, 2014. Honda dealers will install the correct A-pillar cover so the air bags don't destroy you.
Owners of the 2015 Honda Fit can call customer service at 800-999-1009 and give them recall number JF9.
The 2015 Honda Fit was in the news last month, although for better news than air bags that could hurt you. After doing poorly on a crash test performed by the Insurance Institute for Highway Safety, Honda stepped up to the plate and made changes to the Fit.
Honda reinforced the front bumper and had the car re-tested. The upgraded bumper did wonders and helped make the 2015 Fit a "Top Safety Pick" award winner.