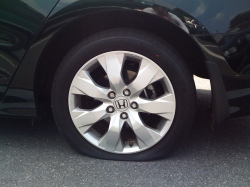 — Honda Civic tire problems have caused Honda to issue a recall of almost 10,000 model year 2014 Civic LX cars. Honda blames the problem on a supplier's assembly of the tires onto the wheels.
During the process, the tires may have been torn from pinching between the assembly equipment and the wheel rims. A tear like this could cause a tire to go flat fast, although Honda isn't aware of any complaints or accidents related to the defect.
Because Honda learned about the problem in the factory, most of the vehicles included in the recall probably are still on dealer lots.
Honda Civic LX owners will receive a recall notice somewhere around the first part of April, 2014. Honda dealers will inspect the originally installed tires for a tear in the tire bead. The tire will be replaced if dealers find a tear in the bead during inspection.
Honda Civic LX owners affected by the recall can call Honda at 800-999-1009.