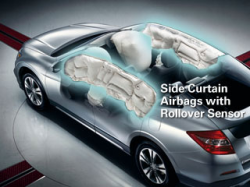 — Honda is recalling 1,200 model year 2015 Crosstour 4-cylinder vehicles because of a familiar airbag supplier that has caused millions of vehicles to be recalled in 2014. Takata frontal airbags have also be linked to numerous injuries and deaths from metal inflators exploding and slicing-up occupants. The difference this time is the Takata airbags in the Crosstour don't involve the frontal airbags as in the other recalls.
Honda says during manufacturing of the side curtain airbag inflator, a problem occurred that created a thin wall on the inflator tube. The side curtain airbag releases pressurized nitrogen gas to inflate the airbag in a crash. The inflator tube carries the nitrogen gas from the inflator canister to the airbag. If the inflator tube is too thin, the leaking nitrogen gas could cause problems with the inflation of the side curtain airbag.
Honda has received 16 field reports and no warranty claims or injuries related to this issue, however, the automaker didn't explain what was in those field reports.
Honda says the recalled 2015 Crosstour vehicles were manufactured October 1, 2014, to November 4, 2014, the Crosstour V6 2WD vehicles were manufactured September 30, 2014, to November 13, 2014, and the Crosstour V6 4WD vehicles were built September 30, 2014, to November 18, 2014.
The Honda side curtain airbag recall should begin about January 9, 2015. Honda dealers will need to replace one or both side curtain airbags. Owners of the 2015 Honda Crosstour can contact customer service at 310-783-2000 and give them recall numbers JN0, JN1, and JN3.