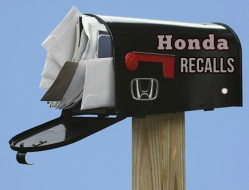 — Facing government investigations, lawsuits and recalls over exploding air bags, Honda is expanding a June 2014 recall to fix air bag inflators made by the Takata Corporation. Honda doesn't know how many vehicles will be recalled, but the automaker says the following vehicles are involved:
2003-2005 Honda Accord
2001-2005 Civic
2002-2005 CR-V
2003-2004 Element
2002-2004 Odyssey
2003-2005 Pilot
2006 Ridgeline
2003-2005 Acura MDX
2005 Acura RL
The automaker says the recalled vehicles include those originally sold or ever registered in areas with high absolute humidity, specifically, Alabama, Florida, Georgia, Hawaii, Louisiana, Mississippi, South Carolina, Texas, Puerto Rico, U.S. Virgin Islands, Saipan, Guam, and American Samoa.
Honda says the passenger air bag inflators will be replaced unless they were already replaced under any previous recalls. The metal inflator can explode and send shrapnel throughout the car. More importantly, that shrapnel can fly into the face, neck and upper body of an occupant.
Honda has been careful in its wording about any injuries related to the recall when it said:
"Honda is not aware of any claimed injuries or fatalities that have been confirmed in the identified population related to this recall."
However, the federal government is looking into the possibility that four fatalities have been linked to exploding air bags in Honda vehicles.
The recall is expected to begin in December 2014. Honda is asking owners to get their vehicles fixed as soon as possible once the recall starts.
With questions or concerns, contact Honda at 800-999-1009 or Acura at 800- 382-2238.
Click a model below to read what owners complain about the most with the vehicles named in the recall.