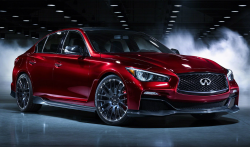 — Infiniti is recalling over 14,000 Q50 and Q70 hybrid sedans worldwide to fix transmission problems and to update software related to the electric motors. Additional Infiniti SUVs will also need to be repaired before the air bags explode.
Infiniti says model year 2014 Q50 and Q70 hybrid cars have software errors that can cause the electric motors to stop running. The errors affect the motor inverter and transmission control module to create a condition where the cars stop moving. The problem won't occur at highway speeds because the engine doesn't depend on the electric motor at higher speeds.
Infiniti says the recalled 2014 Infiniti Q50 hybrids were manufactured December 10, 2012, to June 25, 2014, and the Infiniti Q70 sedans were manufactured November 7, 2013, to May 7, 2014.
The electric motor software recall should begin in mid-November 2014. Nissan dealers will reprogram the motor inverter software. Until then, owners can contact Nissan/Infiniti customer service at 800-647-7261.
Another 1,600 model year 2014 Infiniti Q50 and Q70 hybrid cars will have their transmission assemblies checked for cracks. Infiniti says the cars might have transmissions that were manufactured with damaged housings that can break and cause the cars to die on the road. Not only could the car be left in the road, pieces of metal could litter the road from the fractured housings.
The automaker says the recalled 2014 Infiniti Q50 hybrids were manufactured October 16, 2013, to January 27, 2014, and the Infiniti Q70 cars were manufactured November 7, 2013, to December 10, 2013.
The transmission assembly recall should begin in November 2014. Infiniti dealers will check the transmission assembly for cracks and replace the assembly if cracks are found. Owners can contact Nissan/Infiniti at 800-647-7261.
Exploding Air Bags
Infiniti is also recalling SUVs with exploding air bags from Takata, the company that supplied defective air bags to numerous auto manufacturers. About 1,800 model year 2013 Infiniti QX56 and 2014 QX80 SUVs have air bags that can send metal and other materials flying through the passenger compartment in a crash.
Although millions of vehicles have been recalled because of metal air bag inflators that can explode, Infiniti says the recall involves Takata air bags that were built with the wrong baffles. The outer baffle can cause internal pressure and that pressure can cause the metal inflator to explode.
Nissan recalled 226,000 vehicles in July 2014 to fix exploding Takata air bags, and that was after a May 2013 recall of 480,000 Nissan vehicles for the same air bag problems.
Takata can't seem to make up its mind about what is really causing the air bags to explode. The supplier has blamed the problem on high absolute humidity, too much propellant used in the air bags, bad welds and other problems with manufacturing equipment.