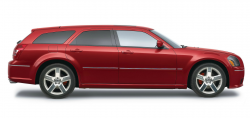 — The National Highway Traffic Safety Administration has closed its investigation into stalling engines in model year 2005-2006 Chrysler 300, Dodge Charger and Magnum vehicles equipped with 5.7L and 6.1L 8-cylinder HEMI engines.
NHTSA opened the investigation in May, 2013, after complaints the engines stalled after refueling or when the cars were stopped or running at low speeds.
The government looked at 1262 complaints related to stalling engines then focused on 299 reports of the fuel system allowing an "overfill" situation after refueling.
Chrysler engineers said the multifunction control valve (MFCV) fuel shutoff float in the 19-gallon fuel tanks can swell and stick in an open position and cause fuel to enter the purge line. Chrysler says fuels with high ethanol content can cause the float to swell.
The government closed its investigation without ordering a recall because Chrysler made changes to the float system and
extended the warranty period on 19-gallon fuel tanks to lifetime coverage.